1. Trendy design 
Starting a new eCommerce shop might be an adventure, so we've made this unique Joomla! template for fashion online shop to give you a headstart. JV Fashion looks like a charm with trendy design with plenty of space for your product presentation. Flat, clean and flexible in design allows you to display a variety of products online and can be used to make any fashion related business website. The template is based from twitter bootstrap, featured grid layout, good placement of full slideshow.
2. Support must have features
These day, responsive feature is a must to ensure your site can reach out to wide range of visitor using desktops, tablets or mobiles. Besides responsive feature, RTL is also a must to help JV Fashion is usable for every people in the world! 
3. Awesome shopping cart solution – Hikashop component
This is the second template featured Hikashop shopping cart solution after JV Shopper 3x to boost up online fashion shops. The simplicity and flexibility of the HikaShop component fit perfectly with the design and features of JV Fashion template, making your future website a lovely store for your visitors. You can manage your store in a few steps without programming skills. No needs to worry so much about managing, you only have to focus on your product images and set up payment option!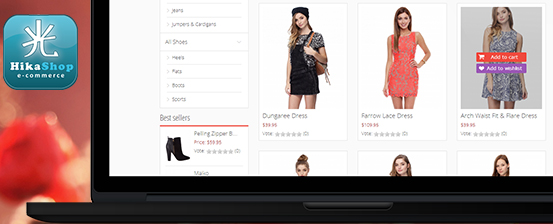 4. Easy blogging with Easyblog component fit
JV Fashion is the first template, which brings in some cool blogging feature to your website with the appearance of EasyBlog. As you know blogging is one of the most important part of any online business, fashion shop is not an exception. With this powerful component, no need to log in to the backend everything can be solved in front-end. So you can blog easily and quickly.  For now EasyBlog fits JV Fashion template like a glove!