With steadily growing number of online shoppers, almost every business wants to get a slice of the profit pie. And today, that's just as easily said as done.
But we all know that. What we are often stumped over is which platform/plugins/extensions to choose to do it right. That's a perfectly legit concern, especially when every e-commerce platform you find is better than the last.
So you are up for setting up your first ecommerce site to supercharge your retail business. First, good luck on your venture.
Now that your are reading this, it is easy to guess you've learned that you can create your own eStore with little money and next to nil technical knowledge, all by yourself.
While there are numerous eCommerce platforms helping us create eStores, there are two authorities in the niche – WooCommerce and Shopify.
You might have bumped into these two eCommerce platforms more often than the others, and figured that these two compete neck to neck. In this exclusive post, you will uncover which one of these two is perfect for your needs.
There are a number of platforms which helps us to create an ecommerce site and the leading ones from them are Shopify and Woocommerce. At any time, you must have come across these names and must have heard that they compete with each other at every point. So here in this post, you will find out which one is perfect for you.
Shopify vs. WooCommerce – The eCommerce Tug of War
Let's go through the criteria for being a reliable eCommerce platform, and gauge Shopify and WooCommerce against them.
While we do this, I suggest you to be open and not perceive one of the two services to be useless. Because, what does not work for you may work for many others.
Remember? We already declared Shopify and WooCommerce to be the best of the lot. So choosing one of these depends on your requirement & limitations.
Setup process for Woocommerce and Shopify: When it comes to Woocommerce, it is a plugin for WordPress CMS and so you require to set up the WordPress website first. After that you need to host it, add the WooCommerce and then your store. We all know that WordPress has been a huge success and so for the same reason it will not take much trouble to setup WordPress, with some guidelines.
While on the other hand, you don't have to do much work for Shopify, as it is a self hosted CMS. They have been specially made to create estores. This can be used by people with zero technical knowledge.
So for the ease of setup, you can say that Shopify is better compared to Woocommerce
Ease of Creating /managing the eStore
This is perhaps the biggest USP of all the eCommerce platforms out there. If this promise is not met, the service ends way behind in the league.
Using both Shopify and WooCommerce is easy peasy. With either service, you can build an eCommerce website with no acquaintance of coding/programming what so ever.
The backend's user interface is intuitive and takes just a bit of time to figure out how to perform basic tasks like creating site's basic pages (contact, privacy policy, etc), listing products, checking/fulfilling orders, etc. To further make it easy, both brands have well-laid documentation (read: user manuals) that cover every technical doubt one might get.
Furthermore, Shopify and WooCommerce, both have a ginormous clientele leading to content rich forums which come handy.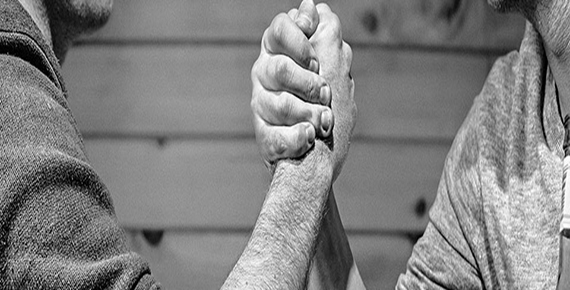 Quick setup walkthrough for Shopify and WooCommerce
WooCommerce being a mega plugin for the WordPress CMS, requires you to setup a WordPress website, host it, power it with WooCommerce and then setup the eStore. Witnessing the success of WordPress, we can say that it is not hard passing these steps with little guidance.
On the other hand, Shopify is a self-hosted CMS created specifically to make eStores. This means, no hassle of finding a web host, installing CMS, and setting it up. All you need to do is sign up for the service and manage the eStore. This is perfect for anyone who have zero technical skills like someone mother or sister who want to set up an e-commerce site.
Winner: If you judge ease of setup with the number of steps involved, then Shopify is your winner. Else, we can call it even.
WooCommerce Vs. Shopify: Who offers better features? Both the platforms are comprehensively enabled to be eCommerce platforms. There is nothing pertaining to eStores that can't be made possible with Shopify and WooCommerce.
Since WooCommerce is in itself a plugin for WordPress, one can use other eCommerce related plugins alongside. WooThemes (the creator of WooCmmerce) themselves have come up with many useful eCommerce plugins that go well with WooCommerce eStores. Apart from that WordPress is filled with many plugins from other developers.
However, Shopify apps are specific to Shopify stores and vice versa. One considerable fact is that Shopify apps are highly trustable as they are meticulously tested by the Shopify team.
WooCommerce and Shopify : Price
WooCommerce is available for free. If you own a WordPress powered website, you can easily add this plugin and start your online channel without breaking the bank.
Now, this will be sounding you good, but there is a flip side. To make the most out of this plugin, you need to take the help of different extensions that come with it.
The majority of these extensions are absolutely free and perform at par with Shopify. However, there are many useful apps available between 5$ to $500 a year, you can choose after analyzing your needs and budget.
You might look at them as additional expenses you need to bear to run your store, but they do offer a considerable amount of flexibility you need to give your channel a competitive edge. You can pay for exclusive features and uninstall the ones which don't serve you any value.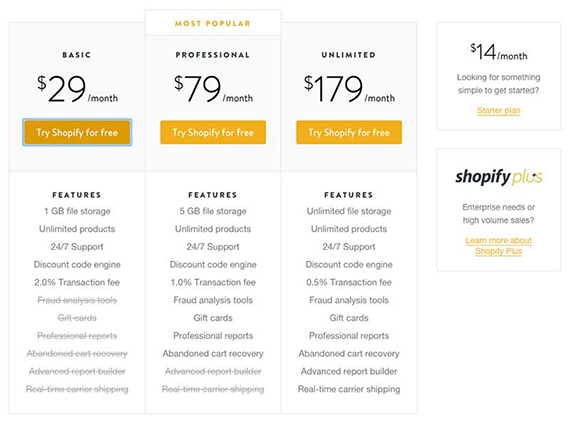 Shopify
In terms of pricing, Shopify comes with a more comprehensive pricing structure. It is available in three packages- Basic ($29 per month), Professional ( $ 79 per month), and Unlimited ( $179 per month).