JV Business
A template designed for small and medium scale business.
JV Business is not fancy at all. It's even simpler than the more simple templates we have to offer, because simplicity is its underlying concept: Simple but effective and simple but attractive. As a result, its design creates a crisp and to-the-point feel.
JV Business come with 3 colors variations: blue, orange and pink. 
This template's layout can be modified easily with the tools it brought, which included JV-Framework. 
It won't take too long to master JV Business at all, so don't hesitate to try it out!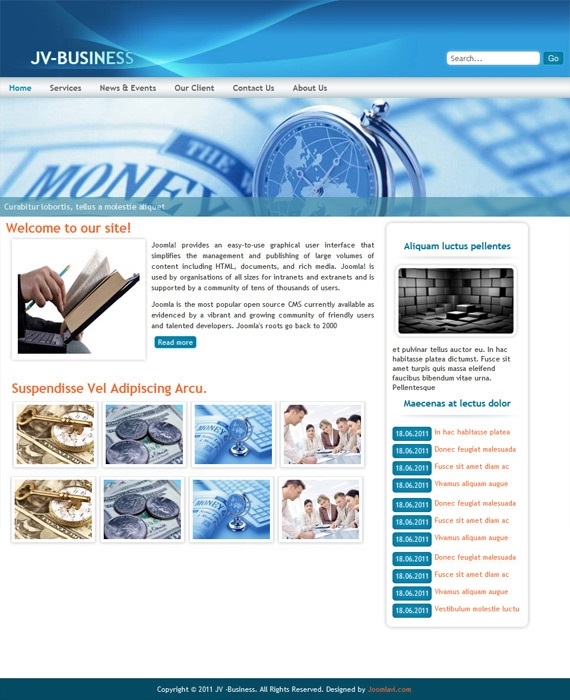 Our idea of a business joomla template is a template that is not only simple to use. It should be elegant and professional and it also carries a healthy dose of style. JV Business can help visitors reading your content, buying your product or hiring your services.
ABOUT JV Business
Right to left language layout
JV Business offers native RTL support.You can set RTL mode with a few clicks on JV Framework configuration. International support has never been easier like this.
Drop and drag module position
Without much coding skills, managing the template is now like a game for kids. 
Multiple layouts
JV Business comes with multiple layouts. Choose the layout that best fit your content presentation.
3 color themes
JV Business is ready with 3 beautiful colors
SEO optimized
JV Business is full optimized for SEO to be ready for Google Fight
Browser compatibility
All our templates were tested to be totally compatible with most popular browsers
Typography
JV Business supports various typography styles to make your site look better
FEATURED EXTENSIONS