Downloading
You should take a look at JV Photo overview to have an overall understanding of the template. From there, you can see Joomla version supported, main features, included complimentary extensions. You can also link to Live Demo, download area and documentation. 
Click download to go to download area
Download the Quickstart package if you planning to make an entire new site with all included extension. The new site will be identical to demo site. All you need to do is to replace the demo content with your.
Download JV Photos package if you've already had an existing site and do not want to replace it or you only want to install the template without extensions or style. Installing with theme version will give you template with any extra extensions or data loss. The JV Studio package includes JV template, Framework components and featured extensions
InstallATION
1. INSTALLATION WITH QUICK-START VERSION
If you are new, please check the following guide with full details
2. INSTALLATION ON YOUR JOOMLA
This installation procedure allows JV Photo to be installed on an existing site (instead of creating entire new site). However, this method will not install included extensions, making it look different from the demo site
To install a Template version of JV Photo, take the following steps:
✔ Step 1: The first thing you need to do is to download JV Photo package that includes Template, JV Framework and featured extensions.
✔ Step 2: Once you have JV Framework  and JV Photo theme zip file downloaded on your computer, login to the administrative area of your Joomla website and upload & Install JV Framework the through the Extension Manager (Extensions -> Extension Manager). The process is the same for templates, modules, plugins and components.
 If you are not familiar with Extensions (templates, modules, plugins and components) Installation, please check the following guide:

✔ Step 3: Once you have JV Framework installed, you need to install theme: Go to Component -> JV Framework -> Tab Themes-> Click Install theme -> Browse JV Photo Theme Zip file to install

✔  Step 4: Once you have JV Photo Theme  installed in JV Framework, Go to Tab Styles -> Click New to add JV Photo Theme to JV Framework Style

✔  Step 5 : Set default for JV Framework: In Tab Style, tick JV Photo, then Click "Default"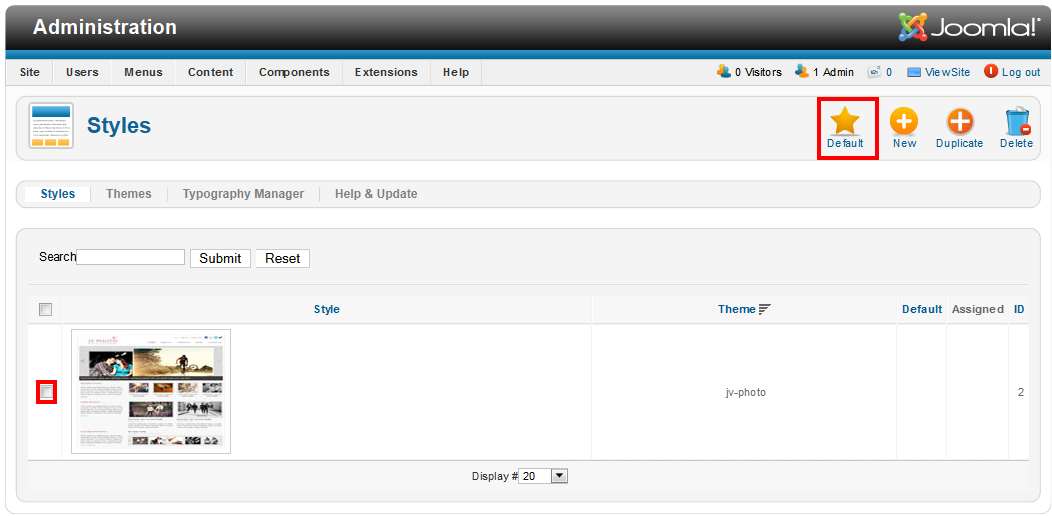 MANAGING JV PHOTO
1. THEME EDIT
With JV Framework, you can edit the theme's files (.css, .xml, etc) via "Edit Theme"
Go to Themes Tab =>  Click JV Photo to enter theme edit page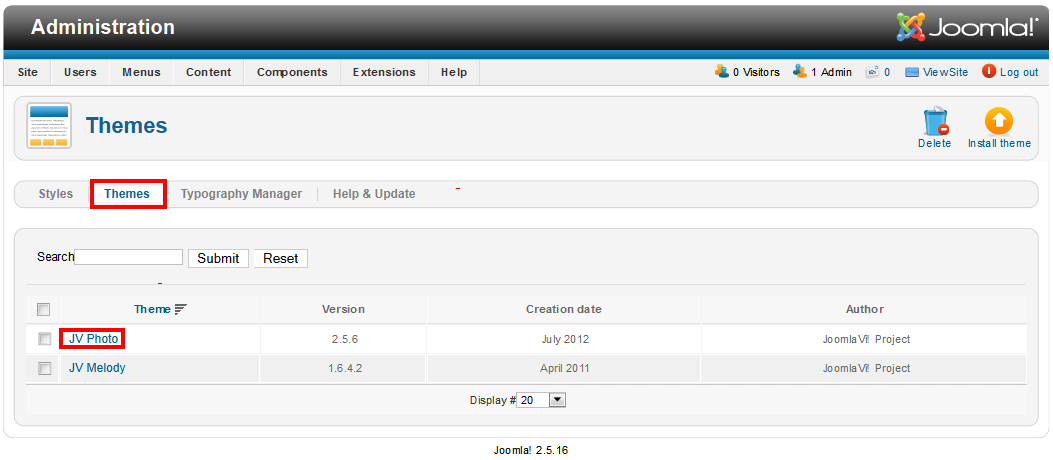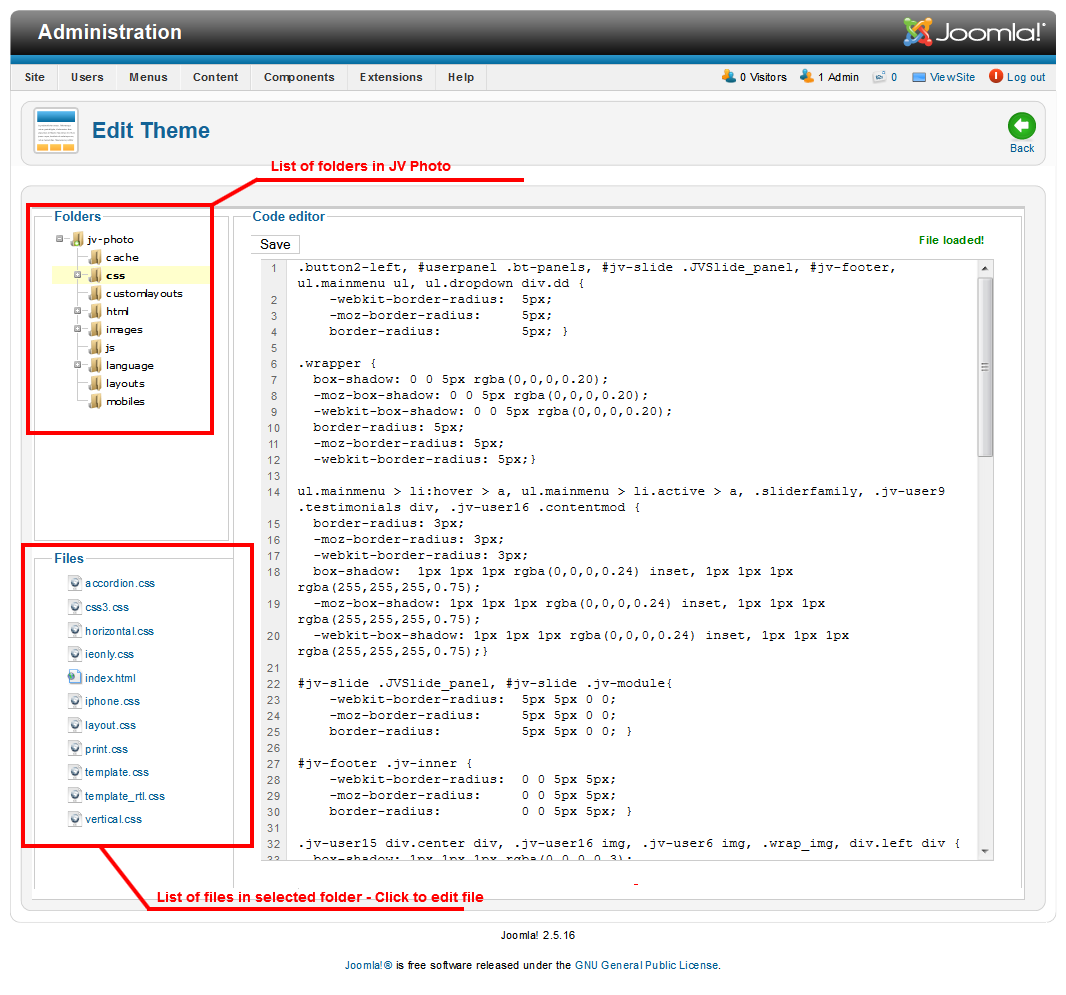 2. STYLE EDIT
 Go to Style Tab => Click JV Photo to enter Style Edit Page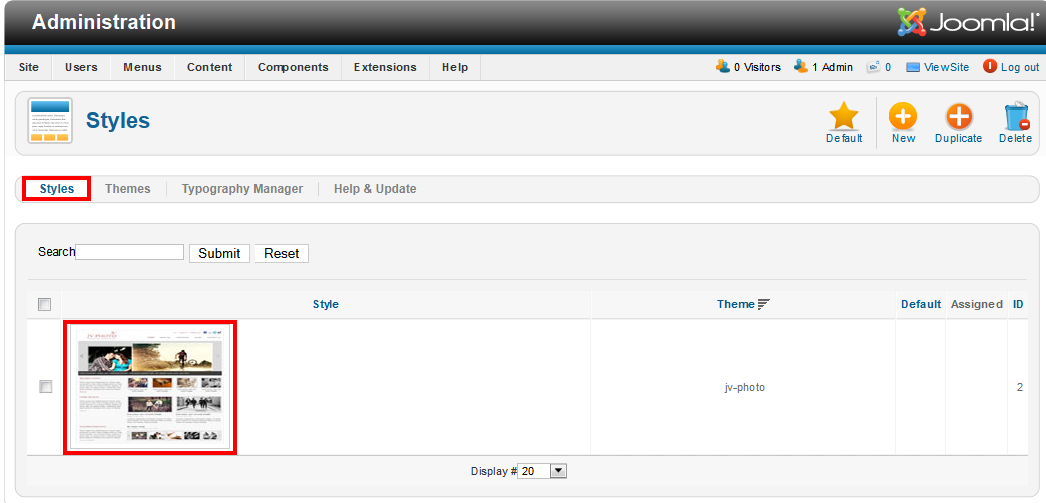 In "Edit Style" page, you will see a list of following tabs: GLOBAL SETTING, LAYOUT MANAGER, MENU SYSTEM, COLOR, GOOGLE FRONT API, MOBILES, PERFORMANCE, USER TOOLS
Go to each tab to edit the parameters

EXTENSION CONFIGURATION
In this part we will show you how to configure main installed Extensions. As mentioned in part I:
If you use quickstart package to install template you will have extensions installed.
If you install template on your Joomla, you have to install new extensions before you configure them
If you are new, please check the following guide to know how to install extensions 
Go to Extensions => Module manager, select the module you want to assign and edit it. You can also use filter to find them easily.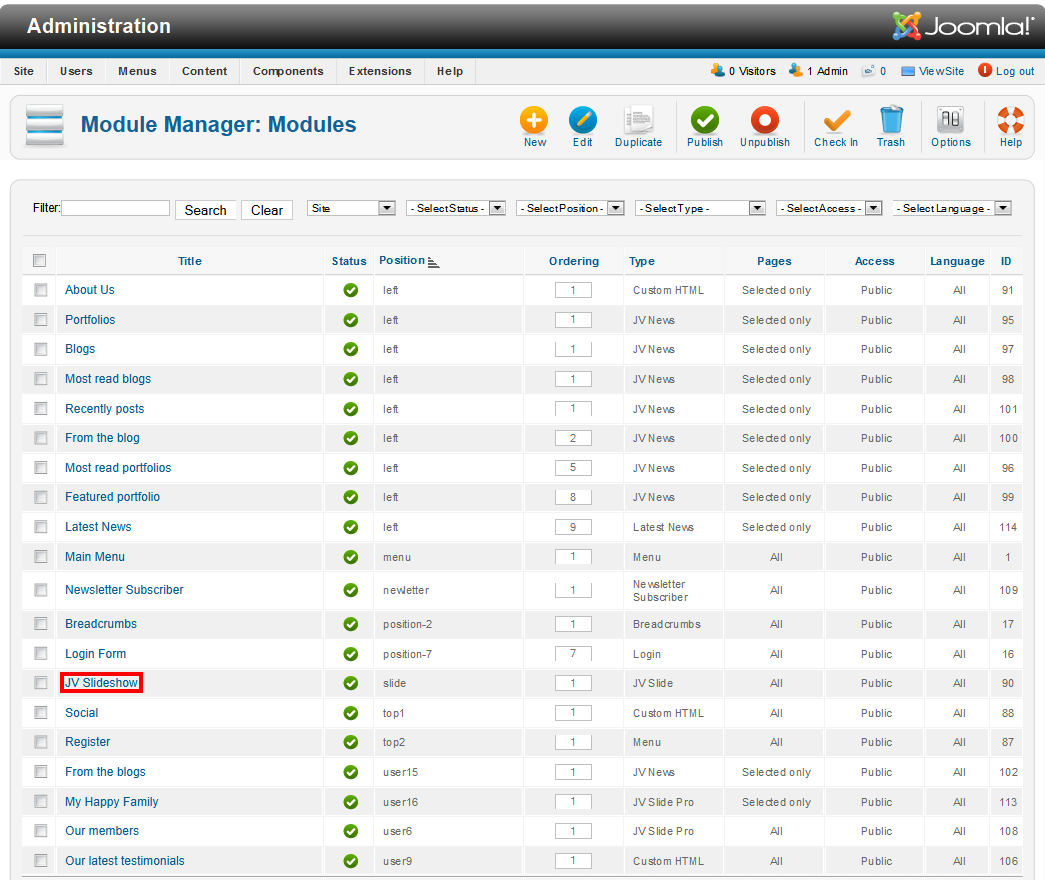 1. JV Slideshow
You should take a look at JV Slideshow Overview first to have an overall view of the extension.
Click JV Slide Show in the list to configure settings:
 Back-end settings: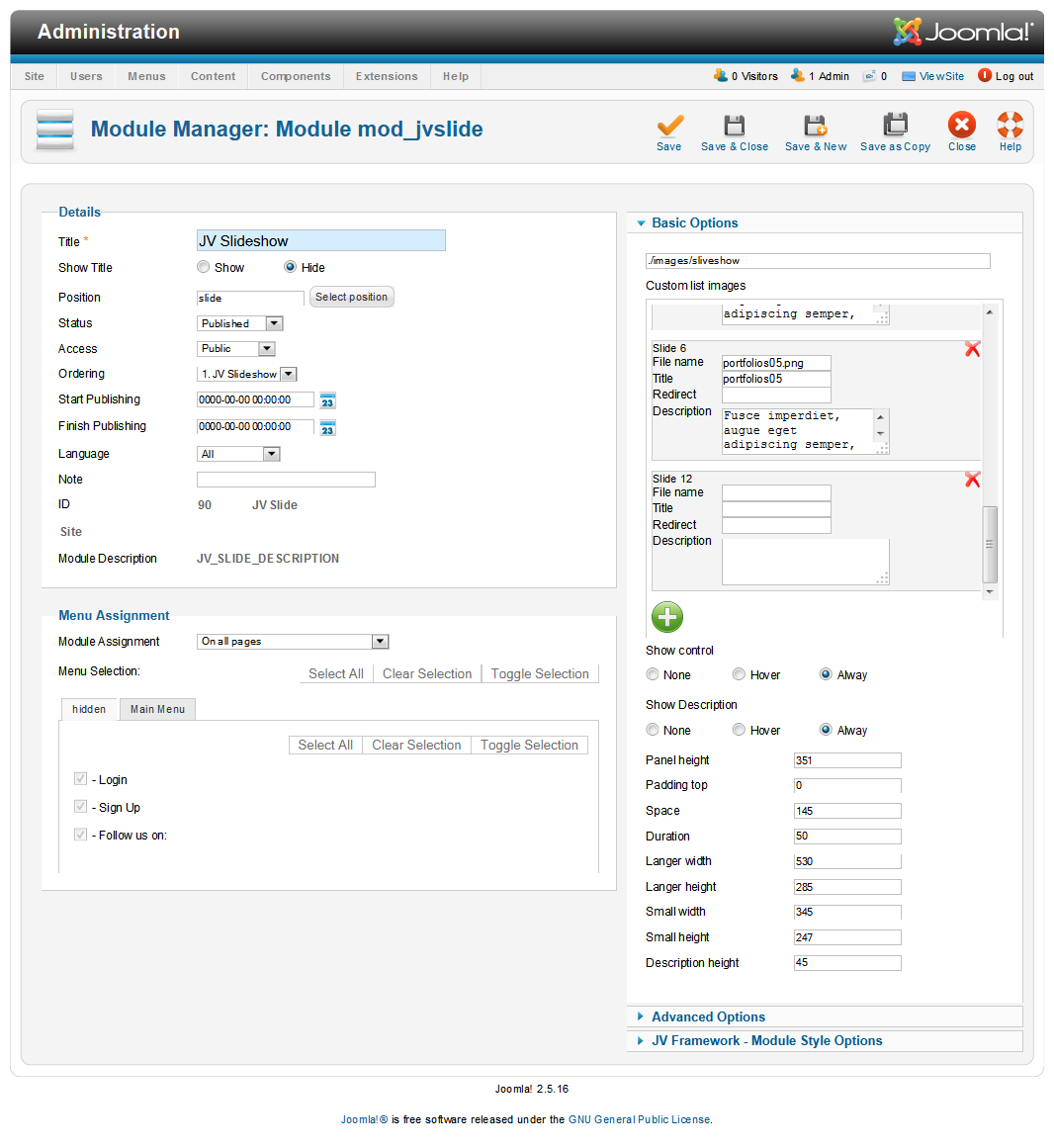 Front-end appearance: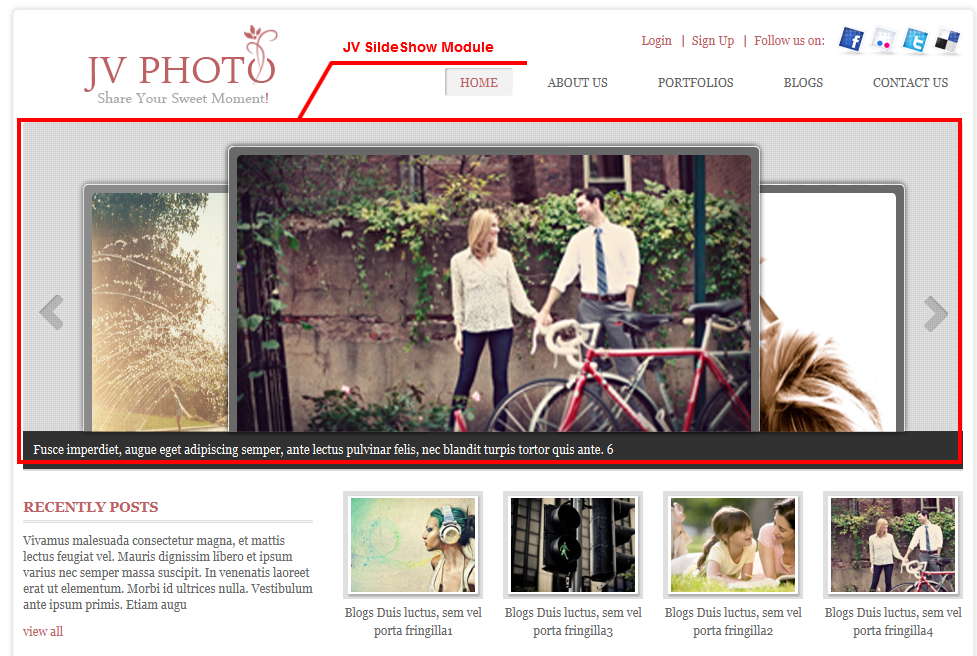 2. JV  NEWS
You should take a look at JV News first to have a general view of the extension.
In JV Photo, JV News is used for the many modules: Portfolios, Blogs, Most read blogs, Recent post ...
Back-end settings: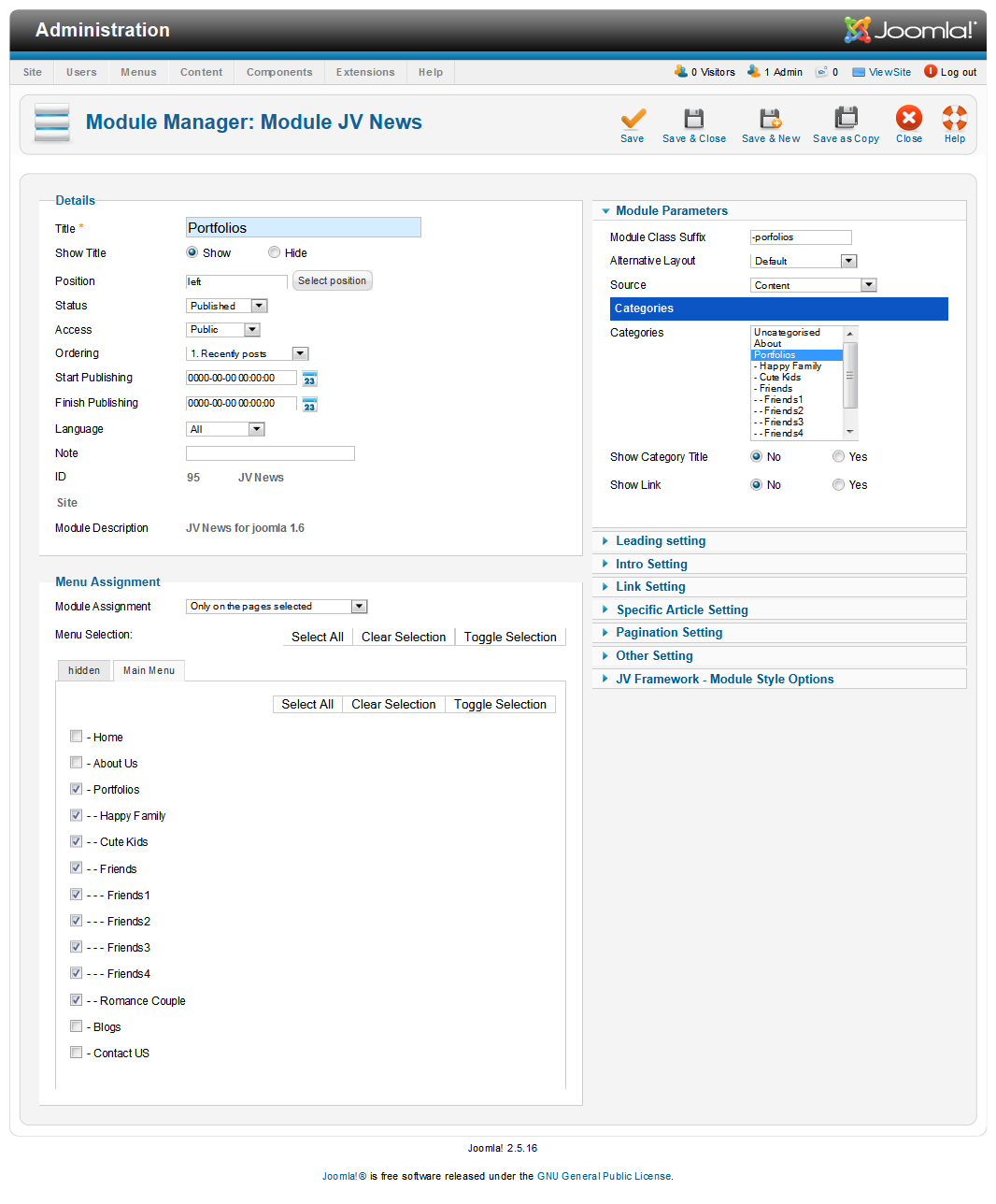 Front-end appearance:
3. JV SLIDE PRO
In JV Photo, JV  Slide Pro is used for 2 modules: My Happy Family, Our members. You can re-name the module titles in back-end settings
Back-end settings:
Front-end appearance: